16. Wood Full Back Restaurant Dining Chair Dark Mahogany Finish Black Vinyl Padded Seat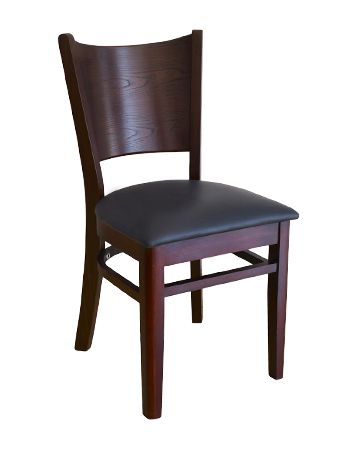 16. Wood Full Back Restaurant Dining Chair Dark Mahogany Finish Black Vinyl Padded Seat
The Beechwood Full Back Style chair is constructed to withstand the rigorous conditions of the food industry. Mortise and tenon joints are screwed and glued together, embraced by corner blocks that improves stress flow into the load barring members - the legs. Heavy duty "L" brackets in main spots to enhance structural stability and prevent the chair from wobbling. Available with a 1" solid saddle seat or an upholstered vinyl padded seat.


Frame: SOLID WOOD
Seat: Padded Seat or Contoured Wood Seat
Premium High Quality Solid European BeechWood
ALL JOINTS SECURED WITH L-SHAPED BRACKETS - WILL NOT BEND OUT OF SHAPE
2" THICK PULLED SEAT OR CONTOURED SOLID WOOD SEAT FOR ADDED COMFORT
WRAP AROUND BAR FOR ADDED DURABILITY
HIGH DENSITY 1.8 LB FOAM, HIGH RESILIENCY
MEETS CAL 117 STANDARD FIRE RESISTANCE
3 COATS OF PAINT FOR DURABILITY AND SCRATCH RESISTANCE
WARRANTEED FROM FACTORY DEFECTS FOR 7 YEARS

DIMENSIONS: 17W 18"SH 34"H WEIGHT: 15 lbs.

DELIVERY TIME: 5-7 Business Days